Sing Red Velvet (레드벨벳)'s most popular songs next time you go to 노래방 (norebang, or Korean karaoke)! Red Velvet (레드벨벳) songs in the table below are ordered from most to least recent. Recent songs may be unavailable at your local 노래방 if the machines have not been updated. To determine the column to use for your karaoke session, look at the manufacturer of the karaoke machine either on the machine itself, on the remote, or on the interface. You should see two letters, either TJ or KY; use the corresponding column in the table below to add the song to the queue and start singing! See more detailed instructions on Korean norebang machines.
Song Title (Korean)
Song Title (English)
TJ #
KY #
2019
음파음파
Umpah Umpah
91897
21021
짐살라빔
Zimzalabim
91570
79944
2018
릴리배드보이
RBB (Really Bad Boy)
98909
92598
파워 업
Power Up
98257
92160
배드보이
Bad Boy
97231
90924
2017
피카부
Peek-a-Boo
96836
49737
환생
Rebirth
96331
49642
빨간 맛
Red Flavor
49930
90338
우드 유
Would U
48922
90075
루키
Rookie
48564
76273
2016
러시안 룰렛
Russian Roulette
46928
76012
7월7일
One of These Nights
46197
49127
2015
세가지 소원
Wish Tree
45805
59924
덤덤
Dumb Dumb
29734
59831
아이스크림 케이크
Ice Cream Cake
45004
48764
오토매틱
Automatic
45476
59636
2014
비 내츄럴 (ft. 태용)
Be Natural (ft. Taeyong)
39176
48605
행복
Happiness
38812
78080
Representative Songs
음파음파 - Umpah Umpah (2019)
러시안 룰렛 - Russian Roulette (2016)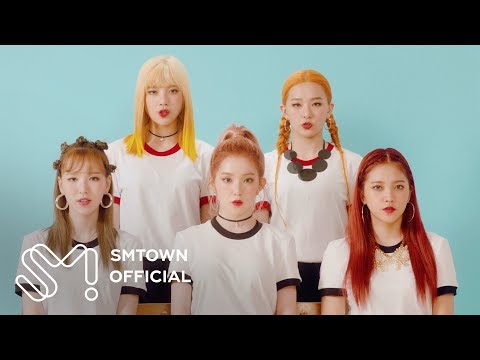 About Red Velvet (레드벨벳)
Red Velvet (레드벨벳) is a 5-member South Korean girl group who debuted in 2014 under SM Entertainment with the song Happiness (행복). While initially less successful than SM had hoped despite the immense talent of the members, Red Velvet did not disappoint with their first comeback in 2015; Ice Cream Cake charted #4 on the Gaon charts and put the group on the map. In the same year, they released the single Dumb Dumb, a song even more successful than Ice Cream Cake in South Korea.
The following years would ensure Red Velvet lasting fame, with a string of Gaon Top-5 songs such as Russian Roulette (2016, #2), Rookie (2017, #3), 빨간 맛 (Red Flavor; 2017, #1), 피카부 (Peek-a-Boo; 2017, #2), and Power Up (2018, #1). While Red Velvet has not toured internationally as extensively as other girl groups such as BLACKPINK, they nonetheless benefit from an immense fan base in South Korea and are very prolific in their musical output, greatly thanks to SM Entertainement's music production and promotion powerhouse.
Tips
The links in the table above redirect to the official YouTube Karaoke videos by TJ Media. These videos have English transcription below the 한글 (hangeul) lyrics; useful if reading hangeul is too hard! Modern karaoke machines will offer this service too but are not frequently seen in norebangs outside South Korea.
If you are unfamiliar with Korean karaoke etiquette, read the tips of KoniKorean's Norebang guide.
Post image: Korea Dispatch [CC BY 3.0], via Wikimedia Commons.
Going to 노래방 (Norebang, Korean karaoke) is a daunting experience for many. From the complex remote to the big songbook, finding the right song to play can be challenging. "Popular Songs for 노래방" is a series of posts listing the most popular songs of an artist or theme, along with their track number for both TJ and Kumyoung (KY) machines. YouTube Karaoke videos are provided when available so that you can practice before heading to a real 노래방!